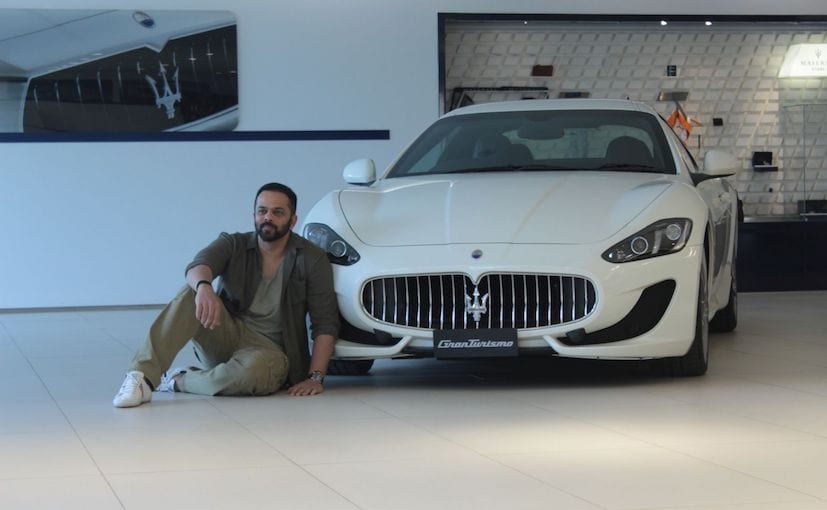 Let's give you a glimpse of his mean machines and tell you what his car collection includes.
Usually known for blowing up cars in ways physics never thought possible, Rohit Shetty is exactly the kind of man you'd expect to have an extravagant car collection. And while you'd imagine him to have an abundance of Mahindra Scorpios lying in his garage, in reality, it is occupied by everything from sports cars and muscle cars to luxury sedans. Let's give you a glimpse of his mean machines and tell you what his car collection includes.
1. Maserati GT Sport
Back in 2018, the ace director added a Maserati to his garage. While it wasn't the mighty Quattroporte, it was still the second-best thing – a GT Sport. The two-door and four-seater is the epitome of luxury with its Alcantara leather upholstery, an audio system powered by Harmon Kardon, and much more. And its Ferrari-built engine is a beast as well. This V8 unit offers 453bhp at 7000rpm and 520Nm of peak torque at 4750rpm.
2. Ford Mustang GT
We're starting to think Rohit has a thing for Gran Turismos as there's one more GT in his garage in the form of the Ford Mustang. This modern iteration of the classic muscle car is the envy of almost every car enthusiast. And it's heavily modified as well, having received a matte paint, a hood vent, and much more from Daljit Auto Design (D.A.D.). This coupe boasts of a 4951cc displacement on its powerful 5.0-litre V8 engine.
3. Lamborghini Urus
Of all the cars in Rohit's garage, this one's a real headliner. The Italian SUV is propelled by 4.0-litre twin-turbocharged V8 engine that can do 0 to 100kmph in just 3.6 seconds despite its heavy build. Moreover, it has a top speed of 305kmph in true Lamborghini fashion. The Urus is a huge hit in Bollywood, with everyone from Ranveer Singh to Kartik Aryan owning one.
4. Range Rover Sport
Another modified beaut in Rohit Shetty's car collection is the Range Rover Sport. It's black in colour and has red accents. It has been with him for a very long time and is certainly a prized possession. The Range Rover Sport is known for its off-roading capabilities that are granted to it by its high-performance 5.0-litre supercharged V8 engine which produces 625Nm of torque. Featuring an excellent ground clearance, this car also comes with a set of seven driving modes ranging from economy to sport.
5. BMW 7 Series
Bollywood stars have a thing for the BMW 7 Series, with everyone from Shah Rukh Khan to Alia Bhatt owning one. Our Khatron Ke Khiladi, Mr. Shetty, also owns one in white. The luxury vehicle is the definition of comfort, whether you're in the driver's seat or any other. It's got a 6-cylinder Twin-Turbo engine that's complemented on the powertrain by an 8-speed automatic transmission. This car can go from 0 to 100kmph in just 5.6 seconds.
0 Comments
These are all the top cars owned by Rohit Shetty that we know of. Tell us which one you envy the most.
For the latest auto news and reviews, follow carandbike.com on Twitter, Facebook, and subscribe to our YouTube channel.